Monday marked an anniversary I haven't thought about in a while. On March 21, 2014, I woke up after a night of drinking from which I thought I'd never mentally recover. More embarrassing than any other. Ever. Ever, ever, ever. Well, as much as I can recall anyway.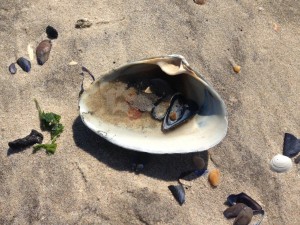 "I drank my face off," was what I remarked to one of my son's hockey coaches a few days later when the hangover had finally worn off. He smiled as if he knew. But he didn't. No one did. I was the only one keenly aware I had just hit rock bottom.
I will never forget the haze that enveloped me and wouldn't dissipate. I had officially crossed over the line between drinking too much and drowning in a sea of booze riddled with tidal waves. It was no longer about trying to control my drinking or cutting back to half a bottle of wine per night or drinking only on the weekends or taking a month off from drinking.
It was about addiction. About being powerless over alcohol and in turn being immobile in my life. It was about me. I had consumed enough alcohol that the vicious cycle of daily drinking and nighttime drunken stupors had swallowed me whole.
And because I had been floundering for so long, my perception was that everything was happening to me and everyone was against me. I had no control anymore, despite how hard I worked to make it look like I was completely in control of everything.
The hangover that morning beat all the others that had come before it. Heck, it even trounced those that used to wait ready to pounce and deliver sheer misery if I'd just have one more drink. It had everything. Headache. Sour stomach. Nausea. Vomiting. Shakes. Sweats. Chills. Blurred vision. No concept of time. Everything was happening in slow motion. But the clock was racing forward. I just wanted everything to stop but the fog engulfed me like a room full of fire. I tried to douse the flames with the couple of beers left from my little pre-game me party the night before. But it didn't help. I needed air.
It was a gorgeous day in a gorgeous place. As I walked along the beach, I began to justify my behavior. I tried to piece together the night. But, nothing was in the right order. Parts were completely missing. I grabbed at the edge pieces of the puzzle and located the corners. The beers before the party. The open bar with glass after glass of cheap red wine. Taking my wine with me everywhere and watching it slosh out of the glass with every stumble I took in heels a girl with a broken back had no business wearing. I knew better than to attempt walking in heels sober. But, my drunkenness delighted in the challenge, embracing every step with confidence. I shudder to think what I looked like walking that way.
I allowed myself to be interviewed for a documentary film about my client who was being honored that night. I couldn't speak more than three or four words without losing my train of thought. And, the producers have me on camera asking them why they wanted to interview my drunk self. By some miracle, a few of the comments I offered were actually usable. Decent even. I hope the film company has since trashed what they didn't use. It's not like I was stripping for the camera – nothing like that – but, really, no one needs to see me like that again. Ever.
The silent auction item I bid on and won and then tried to pay for but I was too inebriated to recall and write down the credit card number I've had memorized for five years. Out with the crew to a bar after the gala ended. A few beers later some remnant of a brain cell suggested I smoke a few cigarettes. That, my friends, was a sure sign I was a goner. I can't stand the smell of cigarette smoke, especially the next day.
My behavior that night showed everyone around me they were justified in continually doubting my ability to get done a job they all thought I shouldn't be doing or they could do better. But, they were wrong. None of them could do it better. Their lack of appreciation. Their undervaluing of my existence and professional expertise. Their complete and total lack of respect for me. I fell from grace in front of people who never even thought that highly of me. People who couldn't have cared less that I was there. I was nobody to them. And, thankfully, most of them I will never see again.
It was an ugly night. And ugly, ugly night. It's a lousy memory that's plagued me for a while and something I've been wanting to forget since I realized it happened. But, looking back today, I consider that night a blessing. It wasn't the end of my drinking. Almost. But, not yet. It was the last of the ugliness and, without it, my story wouldn't be as pretty as it is now. Yes. Pretty. Not perfect by any means. But a beautiful life was born that night. My beautiful life. And, it gets better every day.