Today is starting much like a typical Saturday for me. I am alone in bed with my thoughts. Well, not quite alone; I have my tea (TAZO's Awake – yep, I have given up coffee and it's been 25 days) and my iPad. But not even my trusty pooch stayed by my side today. I am listening to the birds chirping outside the open windows next to me, and I can hear the clank of porcelain and stainless steel as my husband empties the dishwasher downstairs in the kitchen. The kids are still snoozing. A car passes by on the street, a plane buzzes overhead, a owl hoots, and the microwave beeps. The sweet scent of Belgian waffles wafts its way upstairs, and my breaths grow deeper as I inhale the flavor of a treat in which I will again try not to indulge.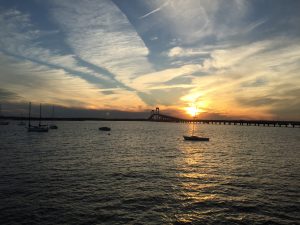 Today is my 500th consecutive sober day. Earlier this week I spent some time mentally celebrating its pending arrival, and realizing the power of the best thing that has happened to me in that time: developing a strong sense of self.
I know who I am. Maybe for the first time in my life. And I know what I need to survive. Yes, I'm an alcoholic. And, yes, I need food and water and clean air. But, it's more than that. So very much more.
I don't consider myself terribly complicated, so I guess it never should have been that great a challenge. But, addiction screws up the simplest, most beautiful lives. And, for me, alcohol stripped me of the ability to assert any level of control over any situation whatsoever. I got to the point where just getting through things was enough. That was success, whether or not I was pleased with or proud of the end result. And the celebratory drink when I was finished turned into a double dose of liquid courage just to get started.
So, it makes sense that it's taken me the better part of 500 days to figure out how to manage myself and my life without alcohol. How to stare down all the triggers and be able to lovingly and graciously thank them for always appearing at just the right time to remind me how powerful I am and why sobriety means so much to me.
Over the past month or so, I've had several triggers. And, I can see a bunch more headed my way before this glorious summer comes to an end. But, because I know myself and what I need, I'm not worried. Bring it on. I'm excited to grab the evil power those triggers so foolishly think they have and harness it for myself, for good. It's what I do now.
My kids have been out of school for just over a week. Our town's school calendar typically runs through at least this week and usually into the next, but the powers that be fussed around with it this year and gave the kids a longer summer. Which is a beautiful thing. Except that camps don't begin for another week and I typically work about 60 hours per week.
Between all the end of school activities – both kids are moving on to new schools in August – and work and the crunch to wrap up sports (including championships and end of season parties) and not wanting to plug the kids into electronics so I could work this last week and my parents visiting for the month (but not staying locally and not helping with the kids either), I was slowly losing it. My world was turned on its side while the kids' was one giant celebration. And, they deserved it.
I managed through it all without making excuses or dropping any balls. I probably complained a little here and there, but I kept going. I met deadlines but nothing got done ahead of time. Nothing was orderly or organized. There were glitches, but nothing I created. I flew by the seat of my pants with grace. I think. And, I hated it.
Holy crow what a trigger. A long, drawn out, six-week trigger. Three years ago I would have said the world was out to get me. Everyone was against me. At least that's what I would have told myself, all the while refusing to let anyone know there was any problem whatsoever. I would have drank my way through it because it was the only thing I knew how to do. Because how could ANYONE manage that kind of stress and chaos without a little liquid courage and nighttime numbing medication? I'd have driven myself to misery creating more stress than already existed. Fueling myself with poison because that's what I thought self care was. I would have failed to meet deadlines and fabricated fabulously craptastic but supremely viable excuses for every single failure – from the kids missing the bus because I was hungover to me missing work deadlines because I thought an extra glass of wine would deliver the creativity I needed to write the perfect press release or craft the most kick ass strategic plan. Everything would have been wildly out of control. Yet my ability to drink through it would have given me a false sense of world domination. Because it always did. And that's what I loved about booze for so very long.
When I think about how much strength and energy it took to continue drinking, I'm blown away. I was so dependent on the love affair, the affection the booze showed me, I truly had no idea I was perfectly capable of simply taking off the mask, being myself, and using that same strength in a positive, productive, meaningful, admirable way that delivers a supremely higher high through the most incredible hangover-free intoxication that comes from embracing life and living mindfully and purposefully.
But, the chaos definitely had me reeling, and thinking about how easy it would be to simply pour a drink and come up for air. After all, I was carrying the weight of the world on my shoulders and it felt like I hadn't taken a breath in weeks. And, that's when I started to fall apart. It was Tuesday night and we were preparing for a planned family trip to our favorite beach, possibly the only vacation day all four of us would take together this summer. But all I could think about was work. There were a couple of things that absolutely needed to get done before the morning. And there were a ton of things that had to get done this week.
In sobriety, I've done myself a solid favor. I've given up pulling all nighters. In extreme situations, I will opt for an early morning (3:00 or 4:00 a.m. if necessary) as opposed to a late night. Drinking was always my way of powering through more work after the day was supposed to be over. By consciously ending my day, I've eliminated a trigger. And I've increased my productivity dramatically.
There would be no all nighter just so I could go to the beach, I said. My husband respectfully suggested I sit this one out. He knows me. He knows how long it's been since I've had a full, uninterrupted day in the office. What he forgot was the last time I didn't go on a family beach trip was three years ago when I stayed behind to care for our ailing pooch who had received his third chemo treatment the day before and then died two days later. I also drank my face off that day. All by myself. Nope. I was not getting left behind.
I paused for a bit and did exactly what I'd been doing to get through the last several weeks. I triaged my to-do list and formulated a plan to tackle only the most pressing items before playing hooky and spending the day with my family.
Why? Because sobriety has taught me what I need. When I am off kilter, I know how to find the even keel again. When I feel less than, I know what makes me whole. When things are complete chaos, I know how to find my way back to basics.
Skipping the chance to breathe in the salt air, close my eyes and feel the sun warm my skin, watch my children run and laugh and play, kiss my husband in the place where we got married almost 16 years ago, and watch the sunset from my favorite spot was not going to fix anything. It was only going to make things worse.
What I needed was that beach day. We all needed it. So we took it. And I spent 15 hours in the office the next day while my husband took the kids on a different adventure. I'm almost caught up. And, I'm breathing so much easier.
Five. Hundred. Days. 500 days. If you stay focused on a goal and pay attention, you can learn a lot.