I'm stewing heartbroken in a hotel room this morning. My son is off playing knee hockey with his teammates. And my husband has taken our daughter to swim in the hotel pool. I am sitting in bed with a wonderful large hot coffee my husband brought me back from breakfast because the sore throat I have been nursing for three weeks has finally decided it's time to take me down.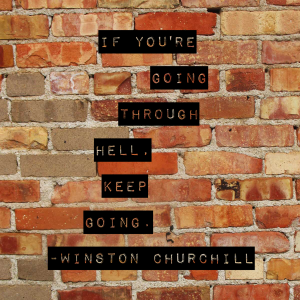 We are traveling this weekend for my son's last hockey tournament of the season. His team won their two games yesterday which puts them in the finals today. We could not be more thrilled for this team of young men and all they have accomplished this season.
It's not the season coming to an end, or even the possibility that these boys won't play together on the same team again next year, that has me heartbroken. It's what I am seeing in one boy's parent that is ripping at my soul.
The man is an alcoholic in a very active an public phase of his addiction. I have watched him the entire hockey season, having not known him before. While I suspect he's been intoxicated at practices from time to time, it's his behavior when we travel for tournaments that gets ugly. Everyone knows there's a problem. And, last night it really hit me.
After the boys' second game yesterday, we all checked into the hotel. This parent walked in carrying a 12 pack of beer. I'm fairly certain it wasn't something he was going to share with anyone else. It was something he brought for himself. I know the drill. I have been there. I've done it. Check into a hotel room before you have to attend an event, and make sure you have a little (or a lot of) something so you can pregame.
(I apologize now for the unpolished, unedited writing of this post. I am dictating into my iPad with a very scratchy, sometimes failing voice. I write much better with my fingers on a keyboard than I do with spoken words. This is raw, emotional, and I am crying.)
Long story short, or shorter, I guess. Last night the whole team went to an NHL game, a team outing to celebrate the end of their season. This parent arrived at the game clearly having consumed whatever alcohol he brought into his hotel room with him. I then watched him down at least five beers purchased at the arena, and make an absolute buffoon out of himself.
Tears welled up in my eyes when my son asked me if he could go up a few rows in the stands to check in with his teammate whose parent was clearly not in control and ask if the boy would like anything to eat or drink. It wasn't until we returned to our hotel room after the game that my son told me his teammate had been crying during the game, unable to watch and enjoy himself because he was so upset about what his parent was doing. My son told me the boy buried his face in his iPod and played games the whole time. 
Last night was not the first time I saw this parent publicly drunk. I don't suppose it will be the last. My son is very concerned about his teammate and about the kind of life he has with a drunk parent. And, I have explained to my children that what they are seeing with this other family is exactly why Mommy stopped drinking.
I have such an incredibly different perspective now than I did even just a few months ago. When I was drinking, I would have joined this other parent and engaged in drunken revelry. Today, I see myself in him. It makes me sad. It terrifies me. And, it makes me so incredibly grateful I found a way to take control when I did.
The boy slept in another family's hotel room last night. I am so glad someone scooped him up and took care of him. And, I'm a little bit ashamed it wasn't me who stepped up.
From what I hear this morning, the boy's parent awoke not knowing where his son was. That had to be the most frightening, gut wrenching feeling. I hope it freaked him out.
I feel guilty. I know I shouldn't. But, I think my guilt comes from my feeling of helplessness, knowing I do not know this addict well enough to confront him about this awful disease and what I see it doing to his child and to him.
None of our hockey family knows that I am an alcoholic in recovery. In fact, the tournament we attended prior to this one fell during my relapse, so I was drinking. I was completely controlled, but I was drinking.
We're checking out soon, so I have to pack … To be continued.