Talbots' new #BecauseImALady campaign encourages women to politely set the record straight and unapologetically redefine the meaning of the term "lady." Therefore, I make zero apologies for how unfiltered and rude I am about to be. You see, the moment I saw the "Having just one glass" video on Facebook last night, my politeness ran out, slammed the door, and has not returned.
For those unfamiliar with the campaign, here's a screen shot from Talbots' website. The video is right there in the middle at the bottom. Go ahead and click the image – it'll take you to the page.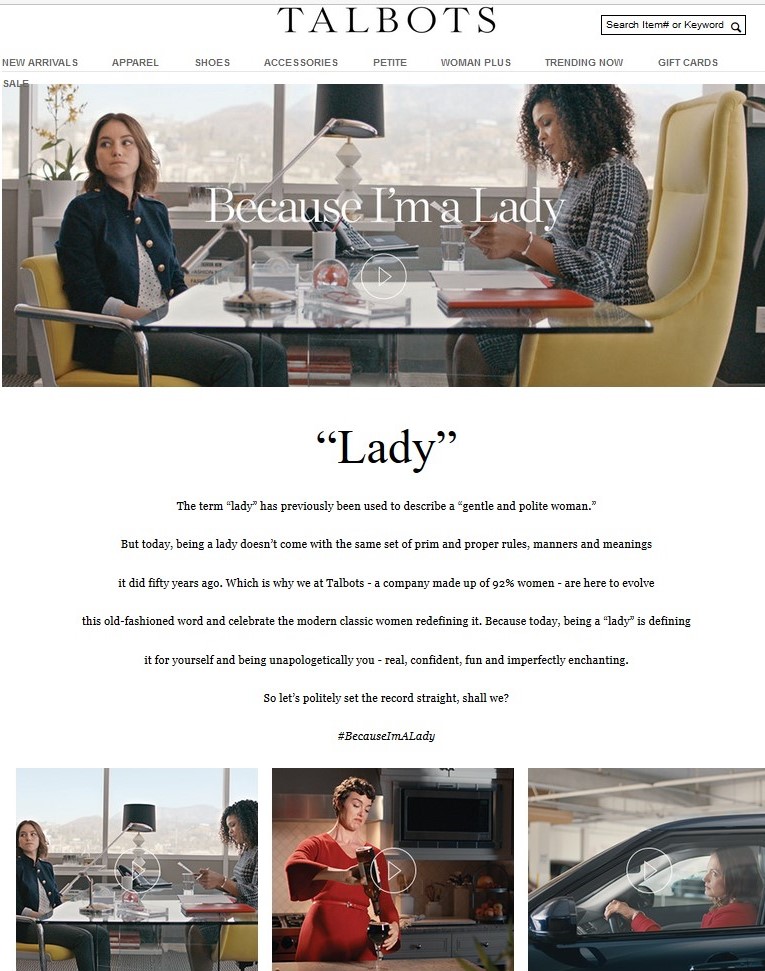 Every once in a while too many wine memes in a short enough timeframe make me start twitching, but most of the time I do a decent job letting them roll off. And, yes, it is a job to ignore them. Because they're everywhere.
But, what Talbots has done stings. A lot. For me, this isn't just some random brand posting some stupid suggestion that all women must drink. Talbots has been a huge part of my life for a long time, outfitting me for the better part of the last 30 years. I am an account holder. Talbots has always empowered me. Back in the day, I had zero self confidence. I didn't feel worthy of success despite my intense desire to succeed. Looking as good as I did in those gorgeous clothes made me feel like I was worth more. They made me look better on the outside than I felt on the inside. Helped me believe in myself. Connected me with the person I dreamed I could become. No matter what size I was wearing, I knew if I walked into Talbots I could find just the right outfit for any occasion, even an hour before leaving on a business trip.
And, now Talbots says, wanna be a lady? Wanna be classy, refined, trendy, real, confident, and fun, just like the Talbots brand has been for all these years? Yes? OK, here's how. Drink a bottle of wine in one glass. Be sure to shake out every last drop because there's just never enough and you don't want to miss any of it. But, it's alright because it's just one glass.
Are you kidding me? Are you fucking kidding me? Talbots, a company made up of 92 percent women. There is no way, no way at all, not one of them is struggling with disordered drinking or trying to get sober or in recovery from alcohol addiction. It's statistically impossible. Yet, Talbots wants women to know that drinking to excess is one way to be a lady, in whatever way we ladies are politely and unapologetically redefining the term. No. No. No, no, no. Oh, and, Hell no.
The woman in the video was me. She is so many women. What she's doing is not healthy.
Dammit, Talbots. I just got back into my size 10 stuff. You know, the slacks that never go out of style because Talbots is classic and timeless? The dresses? I won't even mention all the shoes. Oh my gosh, the shoes!
Women struggling with alcohol use disorder are ladies. Women in recovery from alcohol addiction are ladies. Ladies get offended when you tell us drinking to excess defines us. Ladies get pissed off when you poke fun at irresponsible drinking. Alcohol kills. But, Talbots doesn't care. I mean, how could this new marketing campaign possibly be strong enough if it didn't leverage the pervasive and disgusting booze driven culture that has not only normalized wine drinking for women but has actually succeeded in passing it off as a requirement for surviving all the crap women deal with on a day to day basis?
Low blow, Talbots. This is a slap in the face to ladies everywhere. In trying to inspire women and empower them to be who they are, Talbots aligned itself in an ugly and dangerous way with one of the most harmful issues women face.
Can you imagine if wine manufacturers promoted excessive consumption in the same way we see brands in other industries and the media encouraging drinking? The Federal Trade Commission would be knocking on their doors!
A company made up of 92 percent women is encouraging women to poison their bodies, celebrating the excessive consumption of wine. Anyone in the know can correct me if I am wrong, but I am fairly confident Talbots intended this campaign to lift women up. There's nothing uplifting about telling a woman drinking too much wine will make her a lady.
Talbots' website says, "being a 'lady' is defining it for yourself and being unapologetically you – real, confident, fun and imperfectly enchanting." I love it. Truly, I do. Until it suggests drinking wine will make me a lady.
Remove the wine from the equation. Would anyone have wondered why no one was drinking in any of these videos? I doubt it. Would this have been just as powerful a campaign? Absolutely. How sad Talbots couldn't find the courage to be bold enough to buck the trend and give it a try.
I'm not going to stop wearing those pants. I can't. They fit and they look damn good. As a lady, I am entitled to look good, I need to look good, and I deserve to look good. But I'll be damned if I'm not gonna let out an evil laugh every time I pair them with an Old Navy top. As much as I truly want to burn all this stuff right now, I can't afford to. All bets are off when I drop another size or two.
Could we assume Talbots is saying even women who drink to excess are ladies? Sure. But, I doubt that was the intended message. Clearly, the message is that pouring yourself just one glass of wine makes you a lady; however, to be a lady in today's world you need to be bad ass enough to drink almost the entire bottle. Shame on you, Talbots. I really thought you were better than this.