Facebook's "On This Day" feature has been slaying me lately – so many great reminders of times with family and friends, funny things the kids said back when their voices were tiny and cute, and sad memories of tragic events. While unrelated to death or devastation, today's post from six years ago has really jolted me and made me gasp for air a little bit.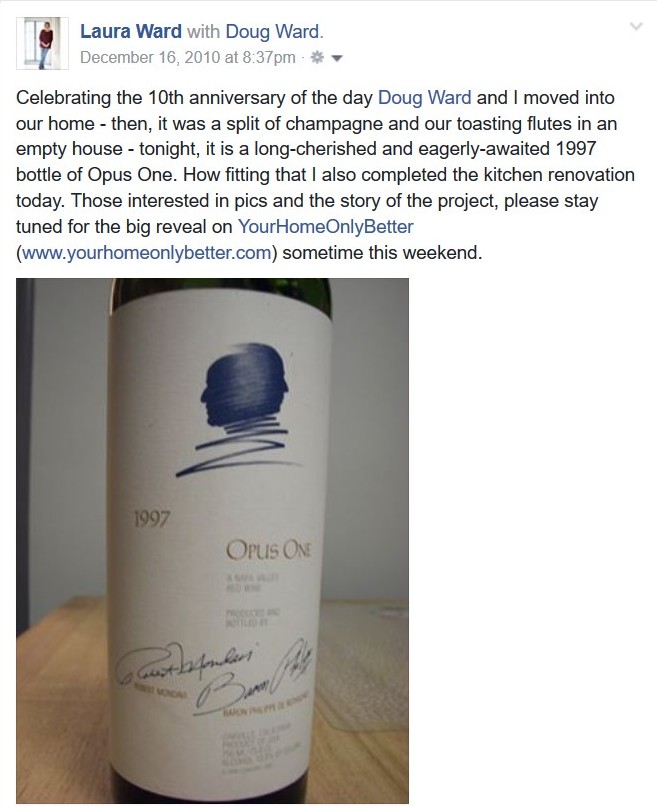 On December 15, 2010, my husband and I celebrated 10 years in our first (and only – we still live here) home together. The day also happened to mark the completion of a massive DIY kitchen project I basically undertook singlehandedly. And drank my way through.
Staring at the photo and reading the caption over and over, I was transported back to a very different time. I spent weeks on the kitchen project, painstakingly and lovingly breathing new life into our worn out kitchen (which still has the same horrible floor missing divots of linoleum where we have dropped things over the years). I binge drank through the whole thing. What a team we were, Sam Adams and me … sanding the cupboard doors, pasting up the bead board wallpaper, painting and hanging the floating shelves, affixing the new hardware, trying to take my mind off the stress of the holidays and two different clients who hadn't paid their bills in three months. Look at my eyes in the photo of me holding the label maker. I had just driven home from the bank bawling.
I was a disaster. But, I was also this superwoman who, with the guidance and moral support of an incredible friend, had just DIYed the holy freaking snot out of her kitchen without going too far over a puny budget I didn't even have in the first place.
That bottle of 1997 Opus One was a breath of air, a calm moment amidst a raging storm I couldn't escape. My husband and I had purchased it years ago, knowing we would have to wait an eternity to open it. It was an investment.
We loved trying new wines together. We loved purchasing bottles we had to wait to open. We loved ordering a bottle of wine on the rare occasion we got to enjoy a dinner out by ourselves.
I didn't get drunk sharing that bottle of wine with my husband. But, that doesn't matter.
As I approach my two year soberthday, I am strong. I am unwavering in my commitment to sobriety. I am grounded in my clarity-fueled life. I never want to see another hangover. And, I have never been happier.
At the same time, looking back at times like enjoying this bottle of wine with my husband completely pisses me off. My addiction stole something from us. I know, I know. We can toast fake wine and fake champagne or sparking water and still immerse ourselves in the complete and total love we have for one another and our dedication to our marriage and our family and be thankful we came through all my effing crap in one piece. I get it. And, it's not lost on me. Not for one minute. I am grateful, and appreciative, and I count my blessings every single day. I do. Because I know I could have destroyed everything.
Right now, none of that makes me any less irritated by alcohol, specifically wine. And, I am angry at myself for letting it become more powerful than I am. I am missing it, missing the times I enjoyed it and didn't abuse it. Missing the warm, just slightly buzzed feeling. Wanting that back. Wanting to be normal. Wanting to not have taken something from my husband, from us.
Wanting to not want something I know I can never have [sips hot tea and takes a deep breath]. Even now, 681 days sober, sometimes I have to take things one minute at a time. This is how this works and this is how I work it. The feeling will pass …