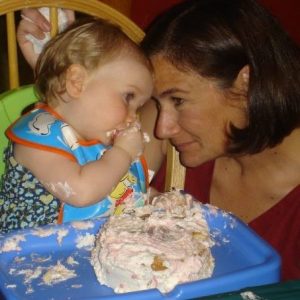 My baby girl is 10 years old today.
My sobriety is 18 months strong today.
A year ago, I started to think about how I will always share this special day with my daughter. Every year, as we celebrate another year of her life, I will quietly rejoice in another six months of sobriety. Every year, as I celebrate another year sober, she will hit the halfway point between her birthdays. I haven't told her this. I might not ever point it out. But, I think it's pretty neat. And, I'm so proud to be able to honor her this way.
For many years, we marked her birthday with a huge backyard party. Horse shoes, water play, wiffle ball. Lots of antics. And, plenty of booze. More than plenty.
We gave up the party a few years ago when my parents stopped spending summers up where we live. And, I have pretty ugly memories of the last party we hosted. It was my daughter's sixth birthday, a gorgeous day we spent entertaining family. At dusk, a giant movie screen was delivered to and inflated in our backyard, and we rolled out the red carpet for my daughter's friends and their families to attend our feature presentation of "The Muppet Movie."
By the time our guests arrived, I'd long since paid any attention to how much I'd had to drink. I stumbled around like an idiot, attempting to be the hostess of the century. There are still large pockets of time from that night that are just blanks for me. I don't remember the movie. At all. I've stopped trying to piece it all together.
This year's party will be much different than that one. My kids are at that age where they can take or leave having parties with their friends. I love that about them. There are no expectations. They don't want to fill the house with kids just to get gifts.
All I want is to make sure my daughter knows how very much she is loved … adored … admired … respected … celebrated … cherished. Her 12-year-old brother wants to do what he does every day: give her crap. So, he bought her a poop emoji bean bag.
She is the kid I wanted to be but was just too shy. Too afraid to fail. Too nervous to be looked at, for fear an imperfection might be noticed. Scared of my own shadow. Frightened of the Sunday school teacher at a strange church we visited so I peed my pants instead of asking where the bathroom was (I was more than old enough to know better). Zero confidence to speak of. No sense of self.
But, not my daughter. Heck no. This kid has got it going on. And, in sobriety, I feed off of her character. She's contagious. I am learning so much from her.
To embrace life. Most every waking moment.
To sing out loud. Especially in the shower. Or when you have a banana you can use as a microphone.
To dance. Anytime. Like no one is watching (of course!).
To relax. Even if your chores aren't finished.
To snuggle. Just because.
To say no. Life is too short to spend time doing things you don't like.
To be honest. Brutally so when necessary.
She's tough. And, she's strong. She can maintain a stone exterior, even as the cracks multiply like spidering glass about to shatter, until it's safe to crumble in private and feel all the feels.
Not me. Not at 10 anyway. Heck, not at 25 either. At nearly 45, I'm getting there. It took me a long time to figure out how not to cry every time someone said something mean to me. To not shy away from a difficult or unpleasant situation. I always wore my heart on my sleeve and shut down in the face of possible failure or criticism. I was told to "toughen up." Repeatedly and often.
My kiddo, though? She can hold her stuff together and keep a smile on her face and a sparkle in her eye until no one's watching. Unflappable. Inspiring.
Had I continued drinking, I'm not sure I would have ever noticed all this or even thought about what it means. In fact, my behavior would have eventually killed her spirit. Of that I am certain.
So, my darling baby girl who's really not a baby anymore, here's what I want you to know on your first double digit birthday: I dreamed about you my whole life. Now I dream with you. I'm proud of you every moment, even when we're butting heads or you're grumbling at me. Please don't ever change. Please keep that infectious giggle and that contagious smile. Stay strong. But, don't be afraid to hurt and cry – I will always be here for you. Never give up. And, always, always, always be yourself. I love you.