I've always worked best alone. In high school and college, I hated group projects. I didn't like team sports. I never wanted a roommate. The more independence the better, I always thought. If you want something done right, do it yourself. I never needed anyone's help. Correction. I never wanted anyone's help.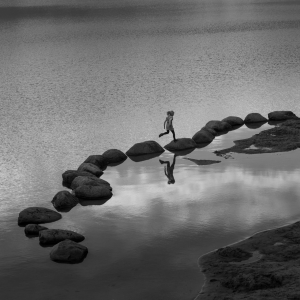 As I grew older, some things changed. Before starting my own public relations consulting business in 2007, I worked for a marketing communications agency where I learned to be a strong team player. Even so, I have definitely been happiest at the helm of my own gig – just me and my clients. No employees. An occasional intern. The ultimate in accountability. To them.
I'm resourceful. I'm helpful. But, I don't like to ask for help. I am woman, hear me roar. I can do it all. By myself.
That was how I lived.
Until my back gave up on me.
Until I admitted I was an alcoholic and couldn't get sober on my own.
The debilitation of my broken back forced me to accept help. My decision to get sober required me to ask for help. One by one, different teams formed around me, working for me.
And, what I learned is even though I have always been fiercely independent and hugely critical of myself, my energies and efforts never benefitted the most important person. I was insanely accountable to everyone who wanted me, but not to the person who needed me most of all: Me. I refused to unclench from my fists the assumption that if I just kept slaving away, constantly working my ass off for others, everything would simply fall into place. Good things would come. Bad things would disappear.
I couldn't have been more wrong.
To fix my back, I had to do right by me. To get sober, I had to put myself first. I quickly learned how holding myself accountable to me and serving my own needs extended natural benefits to my work and family. Taking care of myself not only proved to me I have value, but it illustrated that worth to everyone around me.
Aside from a bit of a roller coaster ride through the holidays and completely abandoning walking, my greatest self care and accountability tool, I've done a pretty decent job of maintaining my sense of self worth and value for the better part of 20 months.
In preparation for the close of an incredible 2015, I wrote about not making New Year's resolutions but rather setting intentions. And, then, I set a very big intention.
I signed up for a Winter Warrior Challenge. Very simply, walk or run at least one mile, outdoors, each day during the month of January. I could have registered as an individual. Instead, I joined a team.
Skip just one day, and you're out. You fail. Your name doesn't go on the back of the t-shirt. Skip just one day, and you strip value from the team, reducing the total number of miles it can achieve throughout the month. No pressure.
Yesterday morning, as I jogged my obligatory mileage, it dawned on me. There is no reason whatsoever I cannot get out and tackle a mile every day. The challenge began on New Year's Day. My husband was home. The kids were home. And we had plans almost all day. I ended up doing a combo run/walk for 1.25 miles as the sun was setting, exhausted from playing hockey for the first time that morning and sluggish after bingeing on pizza while we watched the Winter Classic. But, I did it.
The next afternoon, I announced I'd be walking 2 miles and breaking in my new snow sneakers (you know, just in case we ever get any snow here in the Northeast). My nine-year-old insisted on accompanying me. I love her dearly, but we had already spent the entire morning shopping and lunching, and I was ready for some me time. Remember, the whole "I work alone" thing? Well, my walks are one of the things I have the hardest time sharing. But, I said yes, and off we went for two delightful but painfully slow 18-minute miles, the last 10 minutes of which my daughter whined about how the cold air was hurting her throat and freezing her jaw. Good times. But, we did it. I did it.
On day three, I stole away for 1.5 miles all to myself. It was my third day running/walking in my neighborhood and out of nowhere an aha moment caught me completely by surprise. In just the first three days of this challenge, being part of a team has taught me something very important. In making a commitment to this Winter Warrior team, I've raised the value of my accountability to myself.
For the past 10 months, I have only done my walks and runs in special places. Places where I can connect with nature, inhale mental clarity, and harness inspiration. It's been part of my recovery both physically and emotionally.
I have avoided walking in my neighborhood at all costs. One, my walks/runs are mine. I want to own them and not get caught talking to someone. Two, we have bears. Big black ones. I've had two run ins with them in the past five years and I don't want any more. So, I get in the car and drive to walk/run. I travel as little as 10 minutes and as long as an hour. The goal is to get close to the water – whether it's a beach, or a riverside trail. I am drawn to these places because they awaken my spirit and fuel my soul. They offer the opportunity for reflection … and, not just when you look in the water.
But, yesterday, while running through my neighborhood, something strange happened. I didn't see any neighbors. There were no signs of the bears who had been lumbering around a few days earlier. As I focused on my breathing, my mind began wandering off to those wonderful places it visits when I'm near the water. And, suddenly, a lightbulb began glowing.
"A mile anywhere is better than no mile at all," I said aloud, half surprised. And, then I thought about what Dorothy learned at the end of The Wizard of Oz. "If I ever go looking for my heart's desire again, I won't look any further than my own backyard."
"Maybe there's something here after all," I thought.
While I still much prefer and will continue to fight for my walks by the river, along the ocean, and on the beach, the neighborhood will absolutely suffice on those days when I just can't spare enough time for travel.
Before the Winter Warrior Challenge, logging miles on a daily basis was never a goal for me. I just didn't think it was doable. I love this epic shift in my thinking … all because I decided to share the value of my walks and runs with a team striving for a common goal.
There may not be an I in team, but my accountability to this team has already shown me how much I matter and has quickly reminded me how putting myself first increases my value and the value of those around me. I am far from the biggest contributor to the team, but I count and so do my miles.
This is definitely not a resolution. It's a revolution.