With the kids getting ready to head back to school (my youngest leaves tomorrow for one more week of sleep away camp!), it's getting to be that time. I actually love the end of summer. I'm not one for heat and humidity. Flip flops, yes. Every single day. But, I want to wear them with jeans, a tank top, and an oversized cardigan. To the hockey rink. Until it's so cold I have to switch to my fleece lined shoes and long down parka.
With Labor Day Weekend (and my birthday!) right around the corner, my thoughts always turn to drinking. Always. Ice cold beers to cool the heat of the blazing afternoon sun. Bold cabernets helping the fire pit remove the chill from the evening air. In my drinking days, this is the time of year even I would be feeling over boozed. But not anymore. Every day, I discover more sober options. And, every morning is gloriously hangover free.
One of the ways I stay sober is by having great options when I feel the need to fill my glass. Because I still love to hold a glass in my hand at the end of the day. Here are some of them: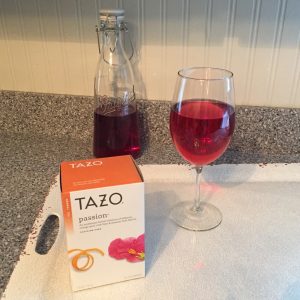 TAZO Passion Tea
The past three summers, my go to evening beverage has been TAZO Passion Tea. I brew 5-6 bags in eight cups of boiling water, let it cool, water it down to taste, and chill. I drink it out of my favorite wine glass. The tea is so naturally sweet it doesn't need anything added. There are so many different things to make with this tea! Here are a couple of fun ideas:
Passion Tea Ice Cubes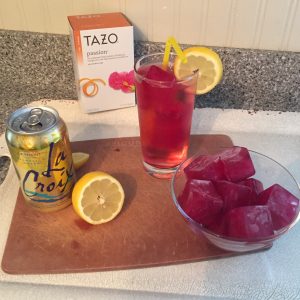 This was my 10-year-old daughter's idea and it is delish! Quite possibly my new favorite this summer. After brewing, let passion tea cool. Then pour into ice cube trays and freeze. When tea has frozen, remove a few cubes from the tray, place in desired glass, and add LaCroix Lemon Flavored Sparkling Water and garnish with a fresh lemon wedge. As the iced tea cubes melt, they infuse their incredible flavor into the seltzer. Want more tea taste? Add more cubes!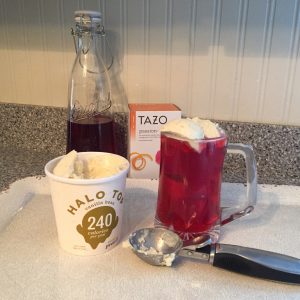 Passion Tea Float
This one's simple. Pour passion tea over ice and add a scoop of Vanilla Bean Halo Top ice cream. The sweet vanilla combined with the hibiscus is amazing.
Another option is to combine all ingredients in a blender and make a slushy.
Fre Brut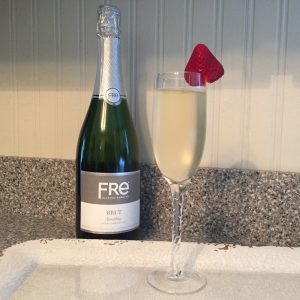 I'm a girl who has always loved the pure taste of champagne. I could drink it like it's water. And, I used to. Especially around the holidays. I recently discovered Fre Wines. While I have no desire to drink the brand's alcohol free wines, the Brut is another story altogether. I love it. It's great by itself or in a mimosa. And, recently, I explored two other options.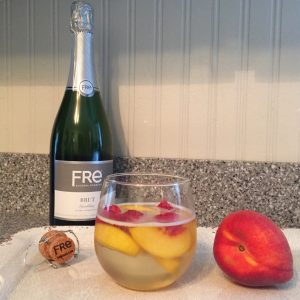 Sparkling Peach Cooler
Cut a ripe peach into wedges and remove the skin. Place in a dish, sprinkle with natural sugar (I use Sugar in the Raw), fill with water to top of fruit, cover, and let chill/marinate overnight. Wash fresh raspberries, pat dry, and freeze.
To make the cooler, remove peach wedges from water and place in desired glassware. Pour Fre Brut into glass. Garnish with 4-5 frozen raspberries.
Watermelon Bellini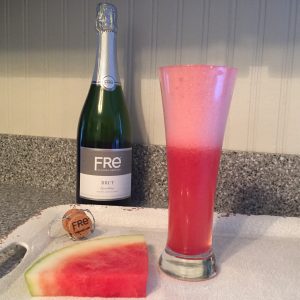 Make a watermelon purée (I put two small slices of watermelon in my Nutri Bullet and it's just enough for one drink). Pour purée into desired glass and top with Fre Brut. Note: When combined with the watermelon, the Champagne will really foam (see photo).
Note: The products mentioned in this blog are personal preferences. The brands neither requested reviews nor provided any compensation for inclusion.