I've been thinking a lot about inspiration today. Mostly because the #RecoveryPhotoADay Challenge asked me to. And, I am a little bit surprised about where my head and my heart have gone.
Last year, on Day 6 of this challenge, I was one month and two days sober following my relapse. I posted one of my favorite photos of my kids, sun kissed and windblown, on a fishing trip the previous summer. When it came to inspiration, they were it. The main source. The reason I fought to stay sober.
My kids still inspire me. Lots of people inspire me. But what I realized today – and, I've never really thought about it before – is, plain and simple, I inspire me. Here's why:
Today began like any other Wednesday. Trying to rise earlier than my body wanted to. 4:30 a.m. and I just don't get along, especially on Hump Day. Fighting to open my eyes and get a jump on the day before the kids woke up. My husband brought me my coffee – sorry, ladies, we're very happily married – and I began setting my intentions for the day.
Just as I started editing an article for one of my clients, my son came in whining and crying about the incredible pain he was enduring as a result of spacers inserted between his upper molars to prepare his teeth for braces in 10 days. He was sobbing, screaming, being a total jerk. It was pure frustration with the discomfort and the fact his teeth were moving more than it was true pain. But, he was pissed off and he was going to make sure everyone was as miserable as he was. A good 30 minutes passed before we were able to reason with him. And, somehow he managed to make his bus to school.
I shifted my attention to my younger kiddo, talking to her about her day, making sure homework was packed up (she'd left it behind on the computer desk the day before), and convincing her to practice her Cello once more before we left for school. Then, as I checked my email to confirm a client's live radio interview was still on schedule for 7:50 a.m., I received a Google alert for another client – an Op-Ed I pitched for her last week got picked up by a major daily newspaper but the editor had not let me know she was going to use it. Score! Emails flying. Congratulations all around.
Listened to the client's interview. He nailed it.
After dropping off my daughter at school I decided I needed a little bit more coffee. I cruised to Dunkin, ordered my favorite coffee and a bagel with cream cheese, picked up a call from a client who couldn't be ignored, paid with the DD app, drove home still on the phone, pulled into the garage, and thought … what is that smell?!
Hash browns. They gave me hash browns. And the smell was nauseating.
Toss them or go back. Toss them or go back. Toss them or go back. Toss them. This is a sign I wasn't supposed to have the bagel. No. I really want the bagel. I'm going back. Good decision. I ended up not eating again until 7:45 p.m.
Not 15 minutes after I settled in at my desk, I received an email. An article (no longer available online) I had been interviewed for last week had published. Shaking, I clicked the link. As I read each word, I grew more excited. The journalist I've known and worked with for years did such a nice job. Thrilled, I emailed her a thank you, texted the link to family, and posted it to social media. Immediately, there were likes, comments, shares, and private messages. I could barely contain myself, but I had to work. A lot. A ton. Time to refocus.
Joined a 60-minute conference call. Edited the article. Client loved it. Prepared to tackle an evening conference call with a tough crowd. Finished coordinating another radio interview. Took three phone calls. Welcomed home the pain free, happy sixth grader who successfully visited the school nurse for a midday dose of Tylenol. Listened to the client knock the interview out of the park. Boom! Welcomed home the fourth grader. And on and on and on.
This, my friends, is why I'm often in yoga pants and a ball cap. Showers are a waste of time. Given the choice, I'd rather take a walk.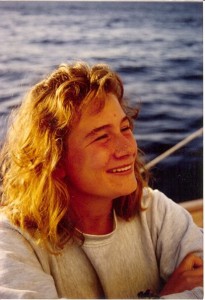 And, this, is why I am my own source of inspiration. That may sound a bit ridiculous or self absorbed. But, it's true. On days like today, I can look back on everything that transpired and know with 100 percent certainty I wouldn't have gotten through even half of it had I still been drinking. I'm inspired by that. I'm inspired by my own success, both professionally and personally. My pride is a huge source of inspiration. And, today fueled my tank for days (possibly weeks) to come.
About the photo: This is me, sun kissed and windblown, on a ship during a college semester at sea when I was 20 years old. I was genuinely inspired by my surroundings that day, blissfully happy, in awe of the possibilities ahead of me. I lost that feeling for a long time and I am ridiculously grateful to have it back again.