At my eight-year-old daughter's voice recital a few weeks ago, her teacher had a Diet Pepsi. In a bottle. Except the color of the liquid inside was too light to be Diet Pepsi. I should know. I've been addicted to Diet Pepsi for years. It goes great with Milk Duds on road trips. Or with those Dove chocolate covered cherries on stressful afternoons when you'd really love a beer to help get over the hump.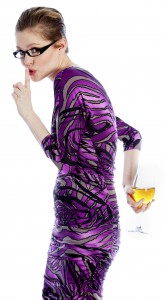 There was something else in that bottle. I should know. I'm an alcoholic. And there was a time I used every trick to hide the true identity of my addiction and my beverage, especially when I shouldn't have been drinking (which was, really, any time I was drinking).
"That's not Diet Pepsi," I texted my husband who was standing right next to me. He read the message and gave me a puzzled look. "Too light," I said.
The teacher hosted a lovely recital and was her usual cheery, energetic, musical self. Our daughter sang beautifully and we were so proud. So, so proud. I tried not to think about the Diet Pepsi. Maybe it was iced tea.
Friday afternoon, the teacher arrived at our home for my daughter's weekly lesson. She walked in with a generic can of diet root beer. She'd never brought in a drink before. I usually offer her water, coffee, tea. Immediately, I wondered what was really in the can.
"Stop it," I told myself. "You're being ridiculous. It's just a soda."
The lesson went very well. My daughter belted out One Direction's "What Makes You Beautiful" and sounded great – she's been working very hard on her new song and looking forward to her lesson every week. After trying and firing three different music teachers over the past three years, we've finally found someone my daughter loves. And she's come such a long way with this teacher.
I wrote the teacher her check, she gave my daughter some cool new stickers, and we said our good-byes. I locked the door behind her and turned to walk to the kitchen. Something caught my eye across the living room on the piano. The diet root beer can. She left it.
"Perfect," I thought. "I can prove myself wrong and be done with this crazy thinking." I walked over, picked it up, and took a sniff.
"Gag! What is that," I asked, choking on the stench. I took the can into the kitchen and smelled it again. And again. It definitely wasn't soda. It was alcohol. But I have no idea what kind. I was always a wine and beer gal myself, with a little vodka here and there. This was none of those.
No sooner had I decided to put aside the can so my husband could have a whiff when he got home from work, then there was a knock at the front door. It was the teacher. Back for her soda. I retrieved it for her and we wished each other a good weekend. And off she drove with her beverage.
Wait. Crap! Oh my god! What had I just done?! Where was my brain? Why didn't I tell her I'd already poured it out? Say I was sorry and leave it at that. I let her drive off with a drink in her hand. I'm such an idiot!
Maybe I was wrong. Maybe it was just some horrible smelling drink. No. I was right. Why would she come back for a less than half full soda? Damn. This sucks. Now what do I do?
I never thought I would meet someone like me. Does she feel guilty about bringing the drink? I know I would have. I'd have been beating myself up and drinking more to make the feeling go away.
I drank at work. But I always masked the alcohol when I left the house – chewing mint gum constantly and replacing it the moment the flavor started to disappear. I never took a drink into a client's office for a meeting, but I built a business from the ground up and excelled at my job at the height of my active addiction. I was so functional it was mind boggling. In my head, I imagine the music teacher is engaged in a very similar situation.
I understand this disease and what it's like to battle it. I don't want to lose this music teacher. But I don't know if I can keep her.
Because I'm an alcoholic, I can't just make up some story about our schedule getting too busy for lessons and brush her off. Because I'm an alcoholic, I have to confront her. I feel like I have an obligation to call her out and, maybe, try to help her. Don't I?
I can't call this woman a friend, but I can say I truly adore her and I love what my daughter is accomplishing as her student. I don't know what would have happened to me if my drinking ever became something I couldn't hide from my clients. Would there have been any sympathy? A second chance?
It takes one to know one and my heart is telling me to just tell her truth. Here's what keeps coming to mind:
"I'm an alcoholic in recovery. I've suspected you might struggle with drinking as well. And, I believe the can you brought into my home was filled with something other than diet root beer. We really like you and we think you're a fabulous teacher and we want to keep working with you. But, you cannot bring alcohol into my home and you need to be sober for my daughter's lessons. If you can agree to this, we'd be delighted to continue. If not, we understand and wish you the best."
But what if I'm wrong?