A couple of weeks ago, I was scrolling through my Facebook feed on my iPad as I do each morning with my cup of coffee before I truly jump into my day and … WHAM. This was the post by Conscious Magazine: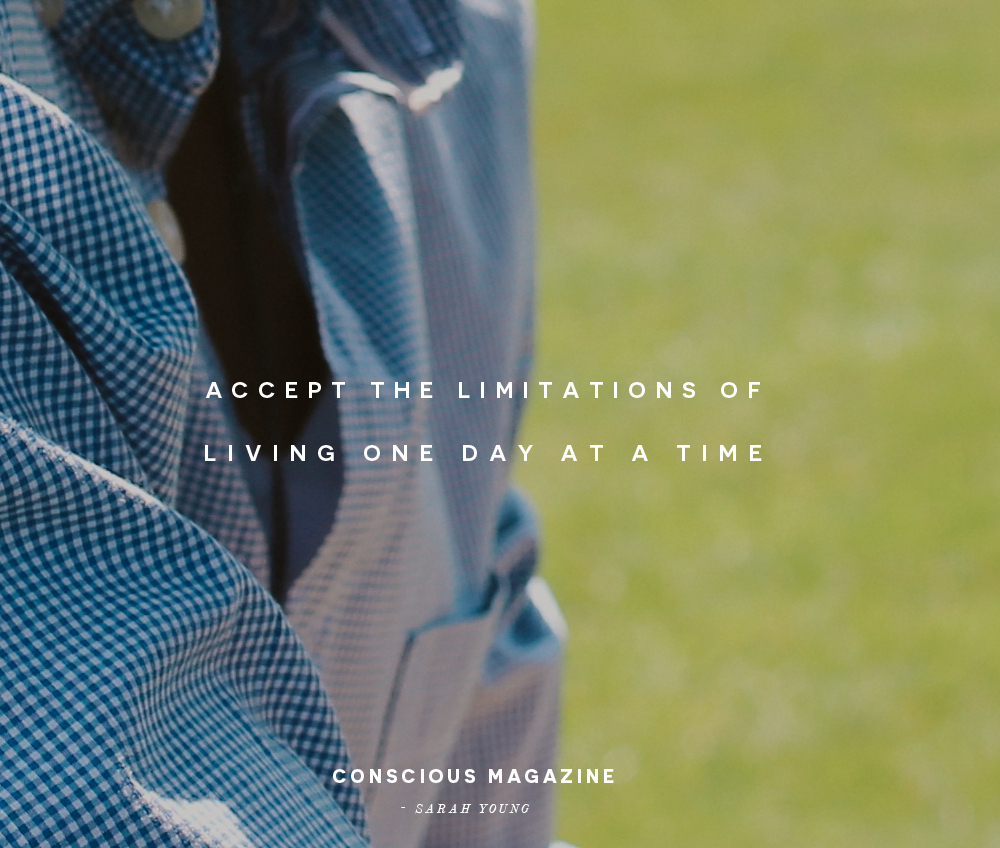 Wait. What? Limitations?! Living one day at a time is how I create power. It's what gives me the opportunity to keep showing up for myself and be all in every day.
What does this mean? Am I limited by living one day at a time? Who is Sarah Young and what does she mean by this? I am NOT the kind of person to accept limitations of any kind. Ever.
Does living one day at a time prevent us from looking into the future or learning from past mistakes? Does it limit our vision or our ability to set and achieve goals? Are we unable to dream?
I have the same answer to each of those questions. It's no. For me, living one day at a time removes all limitations and pushes boundaries aside. It gives me the opportunity to live in the moment and harness the energy of clarity when my undivided attention can be focused on the task at hand or, in my case, the many tasks always at hand. It does not prevent me from looking ahead. Rather, it opens and expands my line of sight.
Remember, though. I'm an alcoholic. Before sobriety, I was living one drink at a time. And, in doing so, I was trapped in my own mind from the moment I awoke each morning to the moment I passed out each night. Allow me illustrate (if you're thinking it's about to be an episode of Herman's Head, you're close).
Inside my alcoholic little brain were four characters: Boozer, the one who just wanted to drink; Bizzy, the one who had to be a superstar and wow all her clients; Mommy, the one who had to make sure the kids had good food to eat, smelled fresh and clean, brushed their teeth, got their homework done, made it to school with all their homework and lunches and musical instruments and library books and wore sneakers on gym day, and get the kids to their after school activities; and The Mrs., the one who had to have a perfectly clean and tidy house and wanted her husband to love her and believe in her despite her very many shortcomings.
Boozer was the ringleader, even when Mommy had way too much on her plate. "Both kids are coming home on the school bus today so, if you only have three or four beers between 10 a.m. and 3:00 p.m., you can still make the drive to the hockey rink for practice at 5:00 p.m.," Boozer would say. "I suppose you're right, but what if the nurse calls and I have to pick up a sick kid," Mommy would argue. "That's what that can of gum in the car is for," Boozer would reply. He always had an answer for everything.
Bizzy was easy. She was the super duper smart one who launched her own public relations consulting business in 2007. But, she always let Boozer convince her that if she just slowed her racing mind down a little bit with a couple of drinks she'd be able to think more clearly and would be much more creative, write better, be more honest with her clients, etc. Bizzy agreed. She loved to say, "Tomorrow is another day. Maybe I'll just put this one thing off. And, this thing, too. Again."
The Mrs. was the most conflicted of the bunch. She loved a good high while cleaning and doing laundry and always took Boozer's advice to buy a six pack of Sam Adams to drink throughout household chore day. The alcohol dulled the unrelenting back pain – that was always a good excuse. But, it was The Mrs. who also had to hide Boozer from The Mr. (and, for that matter, everyone else).
Being a good friend, sister, daughter, and aunt didn't even factor in – there wasn't room in my head for any more characters.
When I was drinking, I was living an entire week at a time, with the days all smashed into one and the different characters in my head constantly arguing with one another trying to plan ways to work a good booze buzz into every possible moment of the week. There was driving to consider, there was juggling of meetings, playdates, carpools (I never drank and drove other people's kids – I swear!), and more.
There was absolutely no way to take it day by day and remain a highly functioning alcoholic. At the same time, despite all my organizing and planning, I was completely limited by my addiction. When I was drinking, the only thing I that held my focus was my high – when I would get it, how long it would last, and making sure I didn't get caught with it.
These days I talk about being all in, showing up for myself every day. That does not include alcohol. Admittedly, some days it simply means staying sober. And, yes, that does feel limiting. But, the pride is empowering and it grows exponentially as those days become fewer and further between all the time. That, is freeing.
Living one day at a time creates an opportunity to begin each day anew, armed with wisdom and strength and fueled by lessons learned every day that came before. Living one day at a time is the perfect way to be all in. Every single day. Regardless of what happened in the past and what may happen in the future. It is the most limitless thing there is. If we allow it to be.