'Twas the night before the first day of school and all through the house, the only sounds were crickets heard through the open windows because the humidity finally broke and we could turn off the AC that's loud enough to scare a mouse (whew!).
The backpacks were stuffed to the gills with mandatory school supplies. We even found the elusive 2″ wide masking tape for the fourth grader (the last roll on the shelf – I couldn't believe my own eyes).
The children were kissed, tickled, zerberted, and tucked. For at least the last hour, my authority they bucked.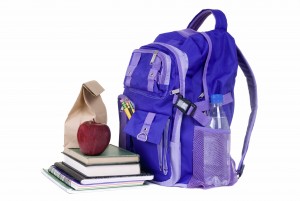 The sixth grader's three-day fever all gone and infected tonsils healed, while my husband away on business watched the Cleveland Indians at Progressive Field.
Me on the sofa with the pooch at my feet. (Remember Dr. Seuss? The only rhyme for sofa is bofa.) I pondered what to do next. My chores were complete.
When down through the trees there began a soft drizzle. But nothing – nada, nil, zilch, diddly-squat – could make my spark fizzle.
The rain stayed for a few minutes, then left as quietly as it arrived. The fresh air through the windows breathed, "Aaaah, I'm alive."
When what to my wondering eyes should appear, but a bowl full of hot buttered popcorn, the television remote, and a beer. (Just kidding. There's no beer.)
So through my Netflix queue I browsed, thinking maybe, just maybe I'd find something to get me … um, never mind.
OITNB, House of Cards, Bloodline, and more. But, no new episodes of the shows I adore.
I thought about wordsmithing this poem to perfection. But spending more than 30 minutes on it would require far too much inflection.
So, let the channel surfing commence. America's Got Talent, Baseball, Full House reruns … I'm still on the fence.
When down from her bedroom the fourth grader crept. "This wiggly tooth hurts," she Oscar-winningly wept.
"Have a drink of cold water, and snuggle into your pillow," some patient mom's voice cooed as soft as a willow.
One more kiss on the cheek, and back up the stairs. Too excited to sleep, with so many cares.
A drink would be so nice right now, even though I shouldn't. I can't believe I thought that, because I know damn well it wouldn't.
"One day at a time" sometimes feels like such a struggle. Really, it's no wonder, with everything I juggle.
But forward I must move, and try with all my might. Happy back-to-school, sober mommas, and to all a good-night.