Name: Linda Parmar
Age: 42
Location: Ladysmith, BC Canada
Recovery Date: March 17, 2014
Recovering From: alcohol, drugs, codependency, money, anxiety, depression
About Linda: I grew up in an alcoholic home and both of my parents and my sister are in long term recovery. I grew up with my mom in AA and soon after that my Dad got sober, I saw the highs and lows of what alcohol and bring into your life. I started to drink when I was 16 and didn't stop for 26 years, I drank daily in my addiction and early in my addiction I experimented with a lot of drugs. I used alcohol to deal with stress and anxiety and just to plain escape. Currently I am 5 years sober and focusing on my financial recovery and work as a Recovery Coach specializing in financial recovery.
Q. Before you entered recovery, what did you think the "thing" you were addicted to gave you, did for you, etc.?
A. It helped me escape, it numbed the pain.
Q. Now that you are in recovery, what have you learned about that "thing?"
A. That it was never letting me escape, it made it worse.
Q. How are you recovering (e.g., 12-step program, rehab, counseling, on your own, etc.)?
A. 12 steps and SHE RECOVERS
Q. In recovery, how do you give yourself what you thought that "thing" provided?
A. meditation, yoga, writing, exercise
Q. What was your "rock bottom" or "breaking point" when you realized you needed to change?
A. My kids saw me drunk. I used to drink mostly when they were in bed and both my girls witnessed me drunk and I knew I needed to change for them.
Q. What has been the hardest part of recovery so far?
A. feeling all the feels!
Q. What about recovery has been easier than you had anticipated? 
A. how I can have much more fun in recovery that I ever did while I was in my addiction
Q. What has helped you the most in recovery?
A. community
Q. Who has helped you the most in recovery?
A. community
Q. What has been the biggest surprise about recovery?
A. I love it!!!
Q. What role has family played in your recovery?
A. A huge role, my husband hasn't drank since I stopped and my family are all sober (mom, dad and sister)
Q. Knowing what you do now, what would you tell your pre-recovery self about recovery?
A. that I can do it and not to be scared. that I will have so much more than I ever thought was possible and I finally became the women I knew I could be
Q. What would you say to someone who is thinking about recovery?
A. It will be the best gift you have ever given yourself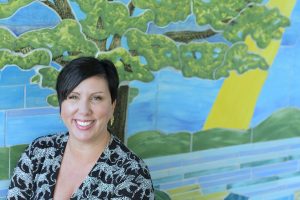 Would you like to share your

Conversation in Recovery

?
Just fill out the form below.