I'm a chicken. A total clucking chicken. Last week, I finally spoke with my daughter's music teacher (note: if you haven't It Takes One To Know One yet, start there). We'd been playing phone tag for a week and we finally connected.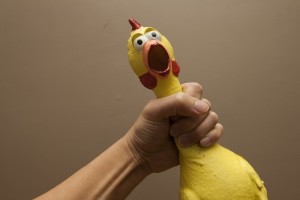 That morning before school, my daughter and I were talking over breakfast and she told me she no longer wanted to work with her music teacher.
I should have seen it coming. My daughter hasn't been excited about music lessons since the recital several weeks ago. The recital was her first and it was a bad experience. Why? Oh, let's see. Teacher consuming alcohol (I strongly suspect) during the recital. Teacher asking my daughter to perform last instead of third as agreed upon earlier in the week (there had to be close to 20 kids, mostly older than my daughter). And, teacher allowing a teenage girl to sing the same song as my daughter.
Suffice to say there wasn't much air left in my daughter's sails and, as much as she tried to keep going with the teacher, she was just too deflated. In addition, she felt she and the teacher were butting heads and didn't like the way the teacher was "banging on Daddy's piano."
The thing is, she was the only teacher my daughter ever meshed with. They made so much progress. It's crazy though. As selfish and inwardly focused as my drama-loving eight-year-old diva of a daughter is, she can pick up a vibe from several galaxies away. I have no idea where she gets it. Without truly understanding what a gut feeling is, my daughter naturally trusts her instincts and there is little to no second guessing on her part. She makes up her mind quickly and sticks to her guns. No looking back.
Back to the phone call. I had every intention of letting the teacher know I knew what she had done. I had scripted my words and practiced what I would say. I was going to tell her that while the decision to discontinue lessons came solely from my daughter, I needed her to know I was aware she had brought concealed alcohol into my home, that it was not alright with me, and, had my daughter wanted to continue, we'd be having a very different dialogue.
But, she immediately started talking down to me. And talking so quickly I couldn't interject. And telling me the best way to handle things. And what my daughter needs. And trying to sympathize with me because she knows what I'm going through and how hard it is to be a mom who works part time. "Wait. What? Seriously?! You don't know me at all," I screamed in my head. "How about how challenging it is to be a business owner, mom, wife, AND an alcoholic in recovery. Oh, and speaking of alcohol, there' something I want to talk about …" But, I didn't go there. And, honestly, my life isn't all that hard, most days. I don't feel like I'm "going through" anything and certainly hope I don't give others the impression I am struggling.
I intended to handle the conversation perfectly. On the phone, I clammed up. Choked in the open net. I played the part of the mom letting her down easy. No hard feelings. You're the best teacher she's ever had. She made so much progress with you. Maybe we can try again in the fall. Blah, blah, blah. I chickened out. Big, fat, clucking chicken.
I can't stand confrontation. I hate conflict. I really didn't want to mess with this woman who also just so happens to have an arrest record (I Googled her). Larceny. And, at the time, she still hadn't cashed the check I wrote her almost two weeks ago. She was holding a set of cards I didn't like. It just wasn't worth the risk.
In my dreams, I still imagine I am wrong about all of this. My gut isn't like my daughter's at all. I second guess everything. Even the phone call I made the next day to the manager of the music store where the teacher gives lessons to dozens of students; where we worked with her prior to starting at-home lessons. By no means was it a move designed to take her down or get her in trouble. Just a head's up that there may be something going on. Hopefully, they'll keep an eye on her and intervene if necessary. That's the best help I'm capable of offering right now. I hope it's enough.